Empowerment Med
Chloe Ntaimo, MD
Medical Spa & MedSpa located in Brazos Valley, College Station, TX
Treatments are 7 days apart and about 30 minutes for each session. On average after 4 sessions patients gained about 25% more muscle and lost about 30% more fat reduction. Using HIFEM and radio frequency technology we can provide body contouring for arms, legs, calves, abdomen, glutes and love handles.
EmsculptNEO Q & A
How do I know if EmsculptNEO is right for me?
Anyone that wants to tone and sculpt certain body areas is a candidate for treatments.
How does it work?
EmsculptNEO is uses non-invasive technology to simultaneously builds muscle and sculpt your body. It induces very strong muscle contractions, not achievable through gym or at home workouts. When exposed to these strong contractions, the muscle tissue is forced to adapt to such extreme condition. The muscle starts remodeling its inner structure and grows.
Downtime?
There is no downtime, EmsculptNEO is a non-invasive and requires no recovery time or pre/post treatment preparation.
Painful?
It is not. Each session is titrated for your comfort.
When can I see results?
You begin to feel tangible results right after the treatment. Positive results are usually reported two to four weeks after the last session and continue to improve several weeks following the treatments, around 12 weeks.
How long is each treatment?
20-40 minutes depending on the area being treated
How often are the treatments?
You start with a minimum of 4 sessions scheduled 5-7 days part.
Who is not a candidate:
Cardiac pacemakers
Implanted defibrillators, implanted neurostimulators
Electric implants
Pulmonary insufficient
Metal implants
Drug pumps
Application in the head area
Application in the heart area
Malignant tumor
Injured or otherwise impaired muscles
Fever
Pregnancy / breastfeeding
Before and After: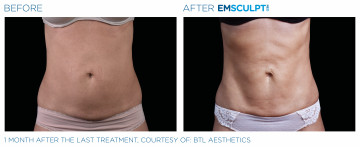 Call us to schedule a free consultation to see if EmsculptNEO is what you've been missing all along!